The best replacement is the original
As a Thermo King owner, you have invested in trusted and proven technology. So when maintaining your unit, it makes sense to choose original Thermo King replacement parts.
It is reassuring to know that every part has been exhaustively tested to the same world-class standards as your Thermo King unit. Genuine parts will not only last longer, they will also perform dependably day after day, year after year. Not only will you protect your investment, but you will also drive down operating costs and minimize downtime.
Genuine Parts Catalogue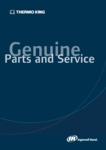 Read more