Temperature recorder
This USB Datalogger measures and stores up to 16,382 temperature readings between -35°C and +80°C. The user can directly plug the device into a PC's USB port and easily setup the datalogger (logging rate, start time, alarms). Once required, the stored data can be quickly downloaded via the windows control software.
Temperature, Humidity and Dew point recorder
In comparison to the model above, this USB datalogger records relative humidity level, from 0% to 100% in addition to the temperature logging.
Both devices are supplied with a long-life lithium battery, autonomy expected of minimum 1 year. Green/Red LEDs are also visible on these devices for status and alarms indication.
These dataloggers are best suited for applications not subject to EN 12830 regulation (box size below 10 cubic metres).
Key Features

USB interface for set-up and data download
User-programmable alarm thresholds for Temp and % RH
Graph display with all parameter (incl. Dewpoint indication) via user software (Windows 98, 2000, XP and Vista)
USB Data Logger brochure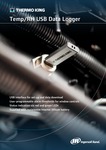 Read more