Temperature controlled containers in the global air cargo industry
The world air cargo industry has grown rapidly in recent decades and is now an integral part of the world economy.
Thermo King and Envirotainer, market leader in active containers for air transport, designed the Air100-RKN e1 and Air200-RAP e2 refrigeration unit specifically to meet the critical shipping needs of the healthcare and aviation industries and overcome the industry's main challenges: the need for safe transport and precise temperature control.
Discover the range of temperature controlled air containers
The air containers offers higher reliability, lower costs and better temperature control than CO2 containers. Autonomously running batteries and selected temperature can be maintained for over 100 hours in a typical shipment scenario and for a minimum of 30 hours in extreme conditions.
The Air100-RKN e1 and Air200-RAP e2 operates in-flight, on batteries and on the ground, through an electrical connection that maintains the air-cargo container's inside temperature while charging the batteries.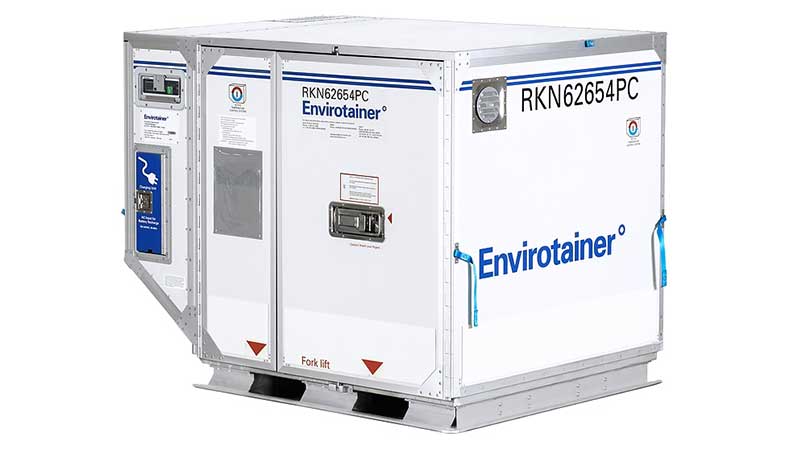 Air100-RKN e1
External size: 4,8m³
Refrigerated volume: 2,3m³
Fits approx. 1 pallet
30 hours of autonomy
---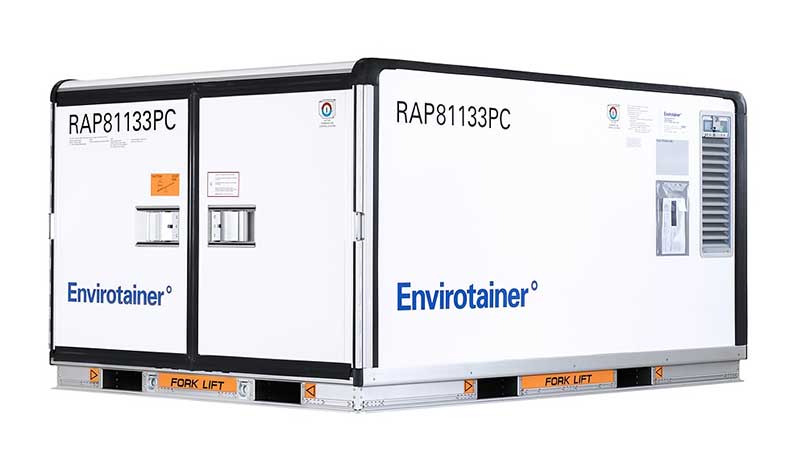 Air200-RAP e2
External size: 11,2m³
Refrigerated volume: 8,2m³
Fits approx. 4-5 pallets
30 hours of autonomy
Designed for the Pharmaceutical Industry
Temperature-controlled containers enable precise end-to-end temperature control throughout every stage of the cold chain transportation cycle to ensure that the products being shipped inside is never affected by variable conditions experienced during the consignments journey.
Both models are designed for the extreme requirements of the pharmaceutical industry. It utilizes compressor cooling and electric heating technology, to meet the requirements of the pharmaceutical industry for shipments. The containers maintain product temperatures in the +2 to +8 °C range, controlled room temperature (+15 to +25 °C) range or at any chosen set temperature between ±0 and +25 °C in nearly any ambient condition appearing along your shipping routes globally.
All containers operate with a worldwide service maintenance agreement which covers maintenance administered by our trusted Dealer Network.
A global network of skills and expertise
The refrigeration unit has been certified by the European Aviation Safety Agency for airworthiness and compliance with applicable regulations. Following Civil Aviation Authority global aircraft safety and maintenance regulations, only air-certified Thermo King dealers may maintain, service and repair the Air100-RKN e1 and Air200-RAP e2 units. Our technicians, compliant with EASA/FAA regulation, work globally with Envirotainer repair stations on site, ensuring peace of mind for the healthcare and aviation industries, and its customers.