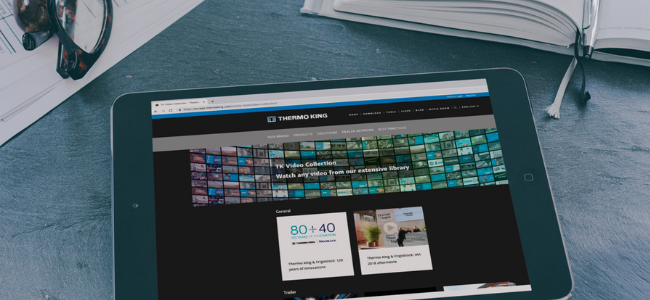 2nd April 2019
There's a reason over 500 million hours of video is watched on YouTube each and every day. Yes, people love cats that can play pianos. But equally in a world of information overload, they like to see rather than read.
Then there's the role of video for inspiring your day-to-day activities:
In training – where research suggests employees are 75% more likely to watch a training video than read a document
In customer presentations – where 59% of decision makers say they prefer to watch video than read text
In marketing – where just mention of the word 'video' increases click-through rates by 13%
Making the most of the video assets at your disposal is therefore a pretty obvious 'no-brainer'.
A one stop shop
To help you put the 'motion picture' to work, Thermo King has brought together all videos into one easy to access place, called imaginatively enough the TK video collection – which you access here.
It's a one-stop shop for viewing a host of video assets, including:
Old favorites
like 'Professor Kool' and his now legendary 'explains' videos that explore a number of key business issues
General videos
covering 'big picture' topics and more specific 'event' videos (for example the Thermo King & Frigoblock IAA 2018 aftermovie)
Product-specific content
covering everything from Trailer and Hybrid Trailer to Direct Drive and CryoTech
Aftermarket insights
focused on 'how things work'
Solutions videos
ranging from pharma to intermodal and sustainability
Getting video clever
We've brought together all these videos for added convenience. Yet equally we've done so in order to inspire your next move:
Supercharge sales presentations – with real-life testimonials from drivers, fleet managers, owners, and more.
Give a serious boost to your marketing efforts, and find out why 83% of businesses already believe that video gives them a good ROI
Bring your customer events to life with free-to-use assets that provide short, sharp overviews to key product benefits
Invigorate training sessions with best practice videos across a range of topics including refrigeration basics, airflow, and preventative maintenance
Embrace the power of video
Ready to put video at the heart of your communications? To let pictures speak a thousand words, and in doing so elevate the way you engage with customers and employees alike?
You can review the full range of videos already developed by Thermo King – with new ones added all the time – by visiting the TK Video Collection.
Here you'll discover the full library. All you need to do then is find the ideal time to play them!