Press Release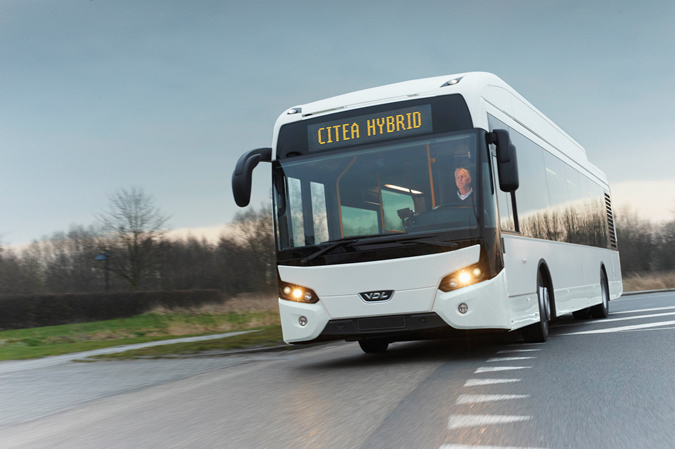 VDL Bus & Coach Equips Their Hybrid Buses with Tailored-Made Thermo King Air-Conditioning Units
9th October 2014
VDL Bus & Coach, one of the largest bus producers in Europe, chose custom air-conditioning systems from Thermo King, a manufacturer of transport temperature control solutions for a variety of mobile applications and a brand of Ingersoll Rand, for 120 of its hybrid buses to be used in Flanders, Belgium.
As an international developer and manufacturer of buses and coaches, VDL knows that today, transit authorities want sustainable solutions that are fuel-efficient but also reduce noise and exhaust emissions.
VDL asked Thermo King to provide an efficient, reliable and sustainable heating, ventilation and air-conditioning (HVAC) system to allow for optimum passenger comfort.
Thermo King answered this request by developing a custom air-conditioning unit specifically for VDL. This state-of the-art electric system stemmed from the Thermo King Athenia™E main rooftop unit in combination with a driver air-conditioning (AC) module and an electric compressor module.
"The need for sustainable transport and passenger mobility is accelerating the adoption of more efficient technologies," said Peter Wouters, director at VDL Bus Roeselare. "Thermo King has long-term, international experience with electric air-conditioning systems in bus and rail applications, therefore, had the expertise to develop this solution for us. Thermo King has been our main AC supplier for many years, and we are glad that they have once again proven the ability to meet the most challenging customer needs."
"We are proud to once again work with VDL to offer an efficient HVAC system solution which allows utilization of renewable energy source without compromising passenger and driver comfort," said Gulsah Metinoz, portfolio manager for the Thermo King bus division. "Our solutions adopt the most efficient technologies and have been designed to align with the latest sustainability trends and comply with regulatory directives."
The VDL Citea SLF-120 Hybrid is a next-generation serial hybrid bus, for which VDL has improved the available techniques and employed new technologies. The air-conditioning modules used in the new VDL buses feature the technology of the Thermo King Athenia E air-conditioning systems.
The family of Thermo King Athenia E units has become the preferred product choice for various hybrid bus platforms worldwide since introduced in 2006. High airflow resulting in enhanced passenger experience as well as relatively shorter unit design allows for bus design flexibility, have become the differentiating features.
The choice of micro-channel condensers within the system minimizes refrigerant charge as well as the risk of leakage. This contributes positively to the sustainability goals all throughout the value chain.
The delivery of the VDL buses with Thermo King Athenia E air-conditioning systems is scheduled to commence in 2015. The vehicles will be put in service in various cities in Flanders, Belgium.
About VDL BUS & Coach
VDL Bus & Coach is one of the largest bus producers in Europe. The core activities of VDL Bus & Coach consist of the development, manufacturing, sales and after-sales service of a wide range of buses, coaches and chassis modules and the purchase and sales of second-hand buses as well. VDL Bus & Coach consists of multiple bus companies that operate cooperatively in the global market. Manufacturing takes place in the Netherlands and Belgium. VDL Bus & Coach places aspects such as quality, safety, durability, comfort, the environment, low fuel consumption and low maintenance costs in high regard. For more information, visit: http://www.vdlbuscoach.com.
About Ingersoll Rand and Thermo King
Ingersoll Rand (NYSE:IR) advances the quality of life by creating comfortable, sustainable and efficient environments. Our people and our family of brands—including Club Car®, Ingersoll Rand®, Thermo King® and Trane®—work together to enhance the quality and comfort of air in homes and buildings; transport and protect food and perishables; and increase industrial productivity and efficiency. Thermo King Corp. was founded in 1938 and manufactures transport temperature control systems for a variety of mobile applications, including trailers, truck bodies, buses, shipboard containers and railway cars. We are a $12 billion global business committed to a world of sustainable progress and enduring results For more information, visit www.ingersollrand.com or www.thermoking.com.