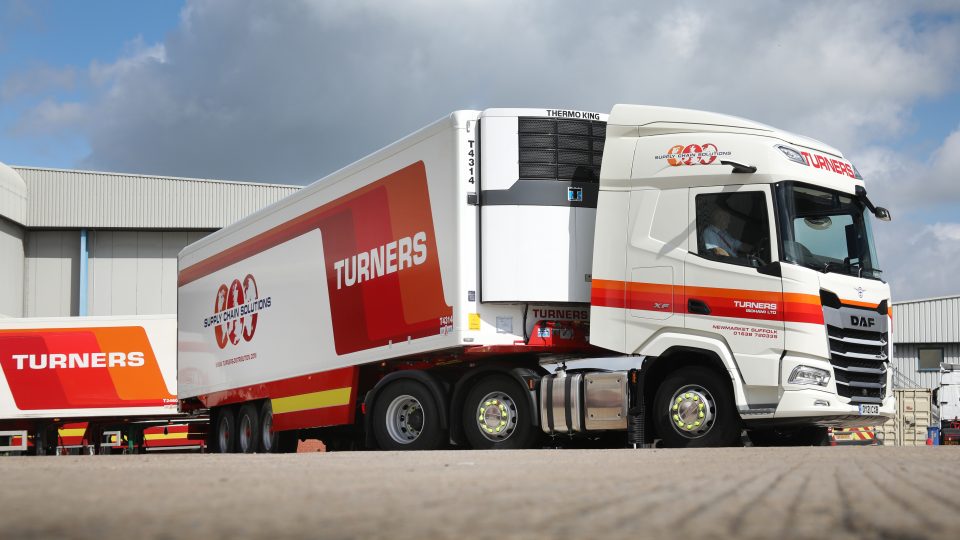 Turners (Soham) Ltd Counts on Fuel Savings with Thermo King Advancer
14th October 2021
One of the largest privately owned transport companies in the United Kingdom upgrades its trailer fleet with 71 new Advancer A-400 units from Thermo King.
Thermo King®, a leader in transport temperature control solutions and a brand of Trane Technologies, today announced that Turners (Soham) Ltd, one of the largest privately owned transport companies in the United Kingdom (U.K.) upgraded its fleet with 71 new temperature controlled trailers featuring Advancer A-400 units. Turners expects the fuel efficiency of the Advancer to help them mitigate the impact of the rising fuel costs on their operations.
Established over 80 years ago, Turners (Soham) Ltd operates in excess of 1850 vehicles from 32 sites and employing over 3400 people. Currently, Turners (Soham) Ltd operates approx. 700 refrigerated trailers, with over 500 of the trailers being based on Thermo King refrigeration systems.
"The increase in fuel price as a result of the rebate on red diesel being withdrawn will have a major impact on our overall fleet running costs," said Tim King, group fleet engineer at Turners (Soham). "However, we believe that the introduction of new modern trailers into our fleet, all of which will benefit from Advancer's proven fuel saving performance, will continue our push to operate the most economic temperature-controlled trailer fleet as possible."
Thermo King A-Series units are up to 30% more fuel-efficient than the market average and are the first in the industry to give complete transparency of fuel levels and fuel consumption. Customers can easily access the fuel consumption data of the unit – recorded, displayed, and made available remotely via telematics.
"When designing Advancer, we asked our customers to tell us what they needed to work better, to win more business, and to cut their cost of operation. They named the cost of fuel as one of the most challenging elements of running a transport fleet," said Steve Williams, area sales and service manager at Thermo King. "Advancer redefines the fuel efficiency of trailer refrigeration.
The units offer unmatched electrical and fuel efficiency and up to 40% quicker pull down than the market average. We believe that Turners will not only improve the efficiency of its fleet but also benefit from increased residual values of their trailers, with better advanced temperature management and inbuilt connectivity."
The new Advancer trailer systems supplied, installed, and maintained by one of Thermo King's dealers in the UK, Marshall Fleet Solutions (MFS).
"We are a long-term major fleet user of Thermo King refrigeration systems. As soon as Advancer was launched, we wanted to introduce this innovative trailer fridge system into our fleet as soon as it was available," said Tim King. "With the inbuilt telematics in the new Advancers, MFS and ourselves will be able to monitor closely the up-to-date fuel usage to identify the progress that we are making with regards to generating even greater fuel savings within the fleet."
For more information on Thermo King Advancer, please visit tkadvancer.com or contact your local dealer.