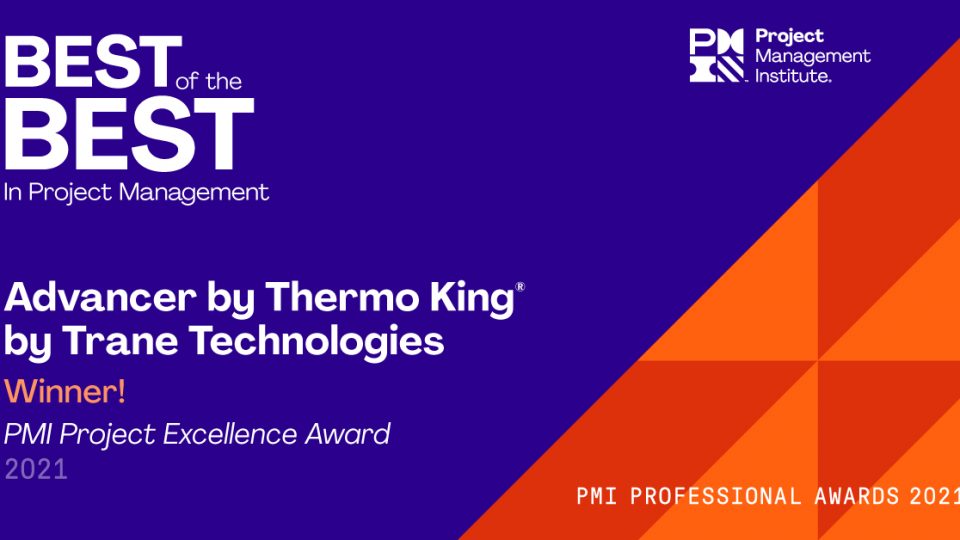 Trane Technologies' Thermo King® Advancer awarded Project Excellence Award from the Project Management Institute
13th October 2021
Advancer team recognized for delivering superior performance of project management practices, superior organizational results, and positive impacts on society.
Thermo King®, a leader in transport temperature control solutions and a brand of Trane Technologies (NYSE: TT), was awarded the global Project Excellence Award from the Project Management Institute (PMI) for launching Advancer – a disruptive re-imagining of the trailer refrigeration unit.
"We are pleased to see the Advancer project recognised for its excellence. At Thermo King, our team continues to bring solutions to market that give customers a new standard in transport refrigeration with breakthrough efficiency, quality, and reliability. We're pushing innovation to its very limit so that customers can take their operations to the next level – and beyond, whilst reducing their own environmental footprint," said Francesco Incalza, president of Thermo King Europe, Middle East and Africa.
"The Advancer project is a great example of our efficient project management capabilities and our commitment to creating a positive impact for society. This is something we strive to achieve in all our projects. This award complements our earlier industry recognition  received for Advancer highlighting the best-in-class manufacturing production and engineering processes including an award for Advancer's Carbon Neutral Manufacturing, and Engineering Endeavour," continued Incalza.
The Advancer units are manufactured in Thermo King's zero waste to landfill plant in Galway, Ireland. The newly designed, state-of-the-art production line uses 60 percent less energy than the production process of previous Thermo King trailer products.
The award recognizes the Advancer project team for delivering superior performance of project management practices, superior organizational results, and positive impacts on society. Advancer offers an all-new design architecture that creates a bold new standard for performance, temperature control, fleet connectivity, superior load protection, and unmatched fuel efficiency. Combined, these capabilities deliver greater operational flexibility, while helping customers achieve significant improvements in fleet uptime and total cost of ownership.
On-the-road and in-use, Advancer results in a 30 percent reduction of carbon dioxide (CO2) emissions compared to previous units – contributing significantly to the Trane Technologies' Gigaton Challenge and  2030 sustainability aspirations. The commitment aims to reduce customers' carbon emissions by one gigaton – equivalent to the annual emissions of Italy, France and the United Kingdom combined.
Since 1974, the prestigious PMI Professional Awards have honoured organizations and their teams whose passion, talent, and expertise have made the greatest contributions to the project management profession or to PMI. The 2021 PMI® Professional Awards were announced during PMI's virtual experience ceremony on October 7.