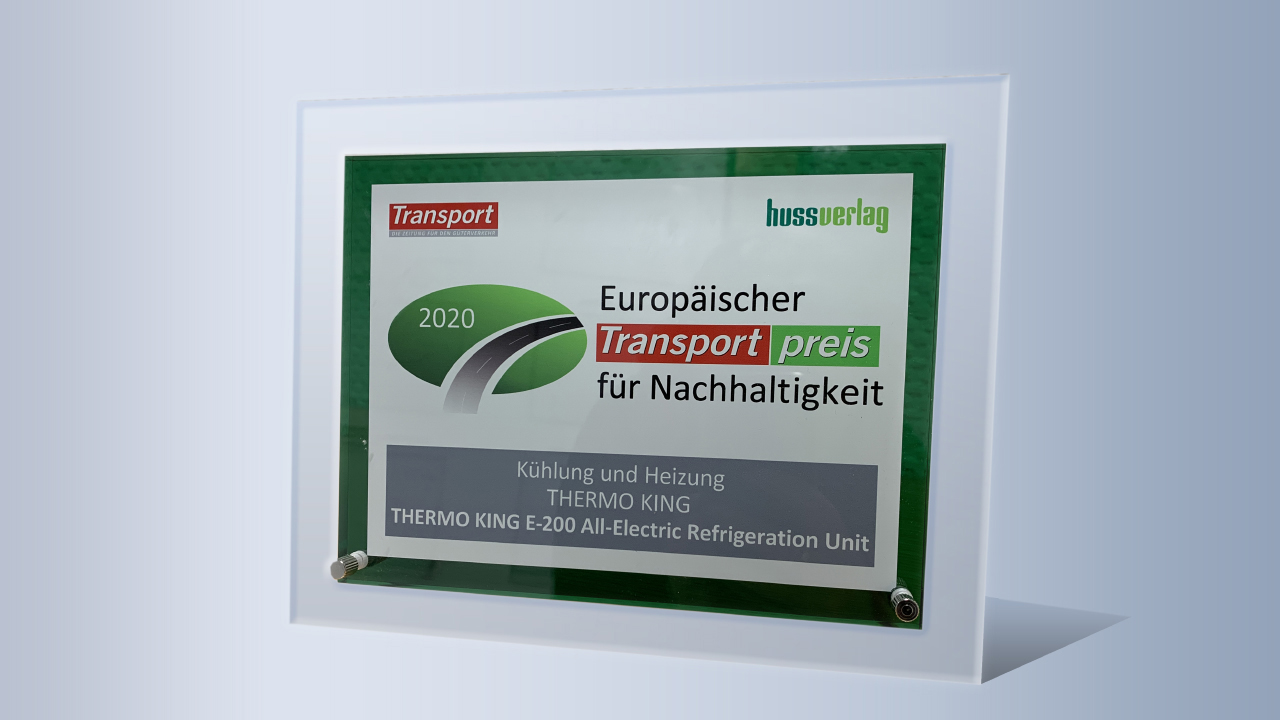 Thermo King wins European Transport Award for Sustainability 2020 for its Innovative, Fully Electric E-200 Refrigeration Unit
6th December 2019
Thermo King® took home the European Transport Award for Sustainability 2020. [1] The innovative, fully electric E-200 unit for vans and trucks below 3,5 tonnes won the competition in the "cooling and heating" category.
The Thermo King E-200 represents the future in transport refrigeration because it functions efficiently with both electric and engine-powered vehicles. Combined with electric vehicles it creates refrigerated transportation that delivers food and perishable items safely with zero-emission, low noise and maximum convenience for urban populations.
Clean, zero emission technologies like the E-200 are critical in meeting Ingersoll Rand 2030 sustainability commitment to reduce customer carbon footprint by one gigaton (or 1 billion metric tons) of CO2e through the heating, ventilation, air-conditioning (HVAC) and transport refrigeration products and services. – For scale, that is equivalent to the annual emissions of Italy, France and the United Kingdom combined.
"This award reflects the focus Thermo King places on innovation and sustainability and embodies our guiding principles as a leader in this industry," said Francesco Incalza, vice president product management and marketing at Thermo King. "For Thermo King, adapting technologies that reduce the impact diesel emissions and greenhouse gases are having on our environment goes beyond the growing governmental regulations around the globe. It is about doing what is right to improve the quality of life"
Thermo King E-200 is using customized components never seen before in the refrigerated transport industry including patented power management, contributing to lower energy consumption, increased vehicle autonomy and higher efficiency and reliability.
The unit can be supplied with optional battery pack or use the vehicle's secondary battery for hold over capacity during stops for deliveries or breaks. This feature also increases the sustainability of delivery operations as the driver can turn the engine off during stops to reduce fuel consumption and emissions. E-200 is also compatible with vehicle's start-stop features contributing to additional fuel savings.
About the European Transport Award for Sustainability 2020
The biennial European Transport Award for Sustainability is organized by the German publisher HUSS-VERLAG GmbH and its magazine Transport to honour companies in the transportation and commercial vehicle industry that take sustainable actions and better anchor the principles of sustainable development.
The 2020 awards were handed out during an official ceremony in Munich, Germany. An independent jury consisting of representatives from business, science, industry associations and media carefully evaluated the applications in 16 different categories based on a point system. The award is intended to encourage companies in the transport and commercial vehicle sector to act sustainably, and demonstrates that responsible and sustainable action not only helps to solve social and ecological problems on a global scale, but also increases profitability and competitiveness for the businesses.