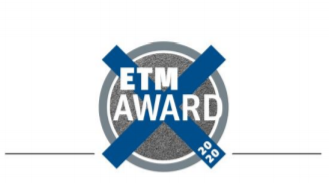 Thermo King Wins "Best Brand 2020" at Readers' Choice ETM Awards in Germany
23rd July 2020
For the 16th consecutive time, readers of German transport and logistics publications choose Thermo King as the Best Brand in refrigeration units
Thermo King®, a leader in transport temperature control solutions for a variety of mobile applications and a brand of Trane Technologies, was voted the "Best Brand 2020" in the "Refrigeration Units" category of the ETM Awards for an amazing 16th consecutive year. Thermo King has continuously topped the readers' rating since 2005, when the survey expanded from the truck and bus industry to include markets supplying commercial vehicles.
"We are extremely grateful to the voters for continuously trusting and recognizing Thermo King as the leading brand in our industry," said Jorge Estelle Caro, regional director for Central and Northern Region at Thermo King. "Staying on top for so many years is a remarkable achievement, but we don't take this for granted. Year after year we work to improve our customer service and accelerate product innovation, carefully listening to our customers' needs and sustainability goals."
Germany's largest commercial vehicle readers' choice awards are organized by the ETM Verlag publication house together with DEKRA, one of the world's leading expert organizations.
Readers of lastauto omnibus, trans aktuell, FERNFAHRER and eurotransport.de voted in 26 categories for the "Best Brand" award, along with the "Best Truck", "Best Van" and "Best Bus" awards.
"We see it as our responsibility to lead our industry by designing and manufacturing solutions that offer our customers optimal efficiency, lower environmental footprint and improved total cost of ownership," continued Jorge Caro. "It's by continuously improving the efficiencies and environmental footprint of our diesel-powered products and by developing hybrid and full-electric refrigeration units that are combatting exhaust, carbon dioxide and noise pollutions, that we prove to be worthy of this recognition."