Press Release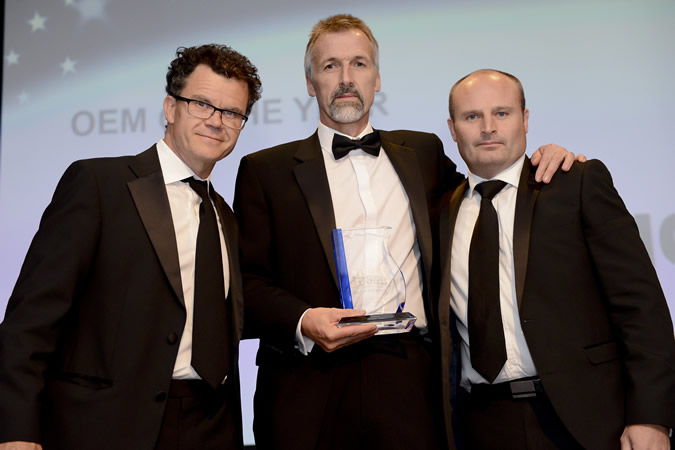 Thermo King Voted 2014 OEM of the Year, Wins Temperature Controlled Storage & Distribution Award
24th November 2014
Thermo King, a manufacturer of transport temperature control solutions for a variety of mobile applications and a brand of Ingersoll Rand, won the 2014 Original Equipment Manufacturer (OEM) of the Year category at the Temperature Controlled Storage & Distribution (TCS&D) Awards.
The TCS&D Awards reward excellence in the perishable supply chain. The awards recognized Thermo King for its leadership in the transport refrigeration industry, its wide range of products and services for a diverse customer base, and a robust, highly skilled mobile service support network.
Stephen Williams, U.K. sales manager for Thermo King accepted the award. He thanked the TCS&D Awards judges for acknowledging the company's commitment to constantly seeking innovative solutions to improve operating efficiency and the environmental impact of its products.
"Thermo King takes its responsibility to help customers with challenges they face today seriously, such as delivering perishable cargo at the right temperature while in transport, reducing environmental impact, decreasing noise and increasing the efficiency and reliability of their operations," said Williams. "Thermo King is committed to helping its customers through these challenges, which I believe is one of the reasons we earned this award."
The 2014 TCS&D Awards ceremony was held recently at the National Motorcycle Museum in Warwickshire, United Kingdom. For the second year the annual TCS&D Awards, with 17 award categories, recognized companies and individuals who make a difference in the temperature controlled storage and distribution industry.
More than 75 years ago, Thermo King shaped the transport refrigeration industry with the development of the first successful mechanical transport refrigeration unit. Even though the industry has changed since, Thermo King continues to provide high-quality refrigerated transport solutions with low noise and exhaust emissions.
Thermo King backs its customers with an unrivalled global network of certified dealer service technicians committed to keep them running and increase their uptime. A global system of more than 900 factory-authorized and certified sales and service centers is the most reliable and skilled dealer service network in the industry.