Press Release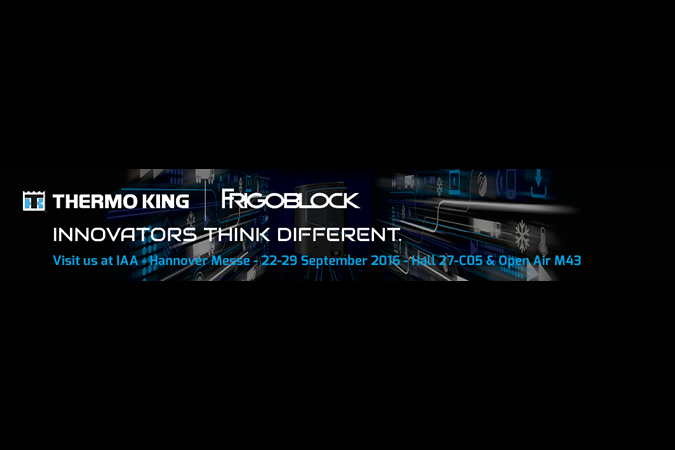 Thermo King Set to Innovate at the 2016 IAA Commercial Vehicles Show in Hannover, Germany
28th July 2016
Transportation solution businesses Thermo King and FRIGOBLOCK of Ingersoll Rand, a world leader in creating comfortable, sustainable and efficient environments, will welcome visitors at the booth #C05, in Hall 27 of the IAA Show in Hannover, Germany, from the 22nd to the 29th of September 2016, where the visitors will see for themselves what the future of refrigerated transport brings today.
"Our acquisition of FRIGOBLOCK and Celtrak has allowed us to explore and develop solutions that not only link sustainability and innovation to deliver industry-leading fuel savings and intelligent systems today, but also pioneering concepts that will ultimately define the future of transport refrigeration for our industry in the years to come. It's very exciting," said Karin De Bondt, vice president and general manager for Truck, Trailer and Bus at Thermo King, in Europe, Middle East and Africa.
At the stand, Thermo King will unveil new and existing products, all built to meet expectations and answer today's demands in areas of sustainability, intelligence and connectivity, innovation, and real-world challenges.
Many are the result of the strategic acquisitions of FRIGOBLOCK and Celtrak, which have broadened Thermo King's research and development capabilities by adding complimentary expertise in areas such as hybrid, non-diesel, and operational intelligence. These capabilities, combined with Thermo King's proven track record of dependable, leading technology, have accelerated new developments that meet and adapt to unique customer needs and provide sustainable results for the transport refrigeration sector.
66th IAA Commercial Vehicles 2016 Exhibition Details:
Stand Number: C05, Hall 27
When:                 September 22-29
Where:                Hannover Messe, Messegelände, 30521 Hannover, Germany
Website:             www.iaa.de
Thermo King leaders will hold a press conference and introduce new products at the stand C05, Hall 27 during the Press Day on Sept. 21 at 14.30. Please register by email to: michal.karkoszka@1212pr.com
Media are invited to join Thermo King product managers, industry experts and leadership team at the stand for interviews upon request and by appointment.
Stay tuned for more information and follow us on Twitter and LinkedIn