Press Release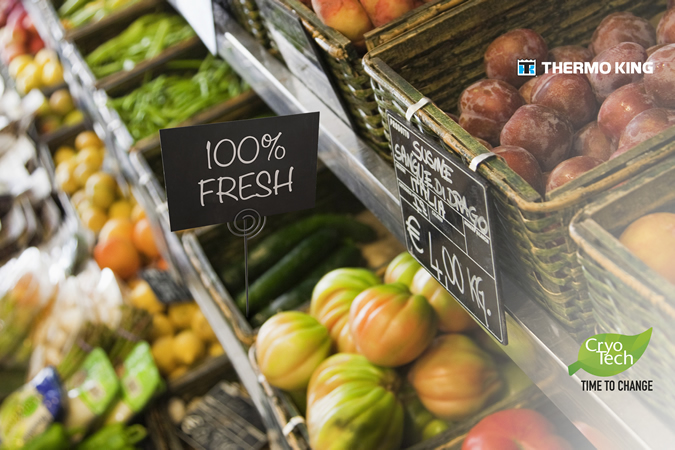 Thermo King Leaders Discuss Case Studies of CO2 Sustainable Delivery at ATMOsphere Conference in Brussels, Belgium
13th March 2015
Regulations and social pressure have dramatically changed the way transporters operate in the European Union. Environmental sustainability is a top objective of legislators determined to phase out high Global Warming Potential (GWP) refrigerants, control exhaust emissions and limit noise in densely populated areas.
The CryoTech range from Thermo King, a manufacturer of transport temperature control solutions for a variety of mobile applications and a brand of Ingersoll Rand, remains unique in transport refrigeration today and involves the use of recovered and commercially available liquid carbon dioxide (R744) in an indirect open-cycle system.
Anthony Bour, CryoTech product manager at Thermo King, will detail how CryoTech refrigeration units provide for urban distribution that is powerful, reliable and exceptionally quiet with minimal environmental impact at the ATMOsphere Conference on March 16-17, 2015 in Brussels, Belgium.
Estimations show that during delivery, the CryoTech-equipped trailers only use 25 percent of the total energy and generate 75 percent fewer emissions than an equal-sized domestic refrigerator.
Details of the presentation, Day 1:
What: "Industrial Refrigeration & Other Applications" Technology Case Study Session: Thermo King, CO2 ustainable delivery operations with CryoTech temperature controlled solutions"
When: March 16, 2015, 16:00
Where: Crowne Plaza Le Palace Hotel, Brussels (Rogier)
Details of the presentation, Day 2:
What: Technomercial Session: CryoTech
When: March 17, 2015, 12:30
Where: Crowne Plaza Le Palace Hotel, Brussels (Rogier)
About the Conference
ATMOsphere Europe is the 6th annual meeting place for key industry stakeholders to discuss the latest natural refrigerant technologies, market trends and regulatory issues in Europe. For more information please visit: ATMOsphere
About Thermo King CryoTech
The CryoTech range provides fleet managers with a much-needed refrigeration solution that offers maximum load protection and customer peace of mind while delivering high efficiency, precise temperature control and telematics integration capabilities together with low environmental impact and reduced noise levels.
Low noise levels and PIEK-certification: The CryoTech units are PIEK certified with noise level below 60dB(A) without compromise on performance. This makes them virtually silent and ideal for day or night-time distribution in urban areas.
No new emissions: CryoTech Units use recovered liquid R744 obtained as a by-product from industrial processes that would otherwise have been released into the atmosphere
Superior performance: CryoTech units feature faster temperature recovery compared to conventional diesel driven refrigeration. This allows for rapid temperature pull-downs and makes them ideal for the distribution segment, where the cooling unit is often interrupted as drivers deliver goods at multiple locations.
Ingersoll Rand Climate Commitment
On September 22, Ingersoll Rand made an environmental commitment to its employees, customers and shareholders – a roadmap to significantly increase energy efficiency and reduce our climate impact from our operations and product portfolio by 2030 (with milestones at 2020).
The commitment includes reducing GHG emissions related to its operations by approximately 35 percent by 2020; reducing GHG emissions related to its products by 50 percent by 2020; and investing $500 million in product-related research and development over the next five years to fund the long-term reduction of GHG emissions. This commitment is estimated to result in the avoidance of approximately 20,850,000 metric tons of CO2e globally by 2020, which is equivalent to the energy used by nearly 2 million homes for one year.