Press Release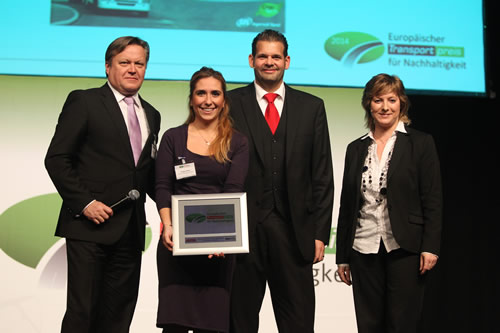 Thermo King CryoTech Range Recognized with European Transport Award for Sustainability 2014
25th November 2013
The Thermo King CryoTech range has won the "European Transport Award for Sustainability 2014" in the category "vehicle cooling and heating systems."
The jury of the European Transport Award for Sustainability 2014 recognized the CryoTech range based on its efficiency and environmental sustainability. The awards are organized by German publishers Hussverlag GmbH and its magazine Transport – Die Zeitung für den Güterverkehr to honor companies in the transportation and commercial vehicle industry that take sustainable actions and help to better anchor the principles of sustainable development.
Thermo King is a manufacturer of transport temperature control solutions for a variety of mobile applications and a brand of Ingersoll Rand. Duygu Seker, commercial leader of CryoTech systems for Thermo King, received the award during an official ceremony which took place in Munich, Germany, on 19 November.
"It's inspiring and encouraging to see our innovative CryoTech range recognized as a sustainable solution," said Seker. "This solution represents sustainable transport refrigeration for the future providing fleet managers with maximum load protection while delivering high efficiency, low environmental impact and reduced noise levels."
The independent jury existed of representatives from the business and scientific world as well as trade associations and media. Their decisions were based on various, carefully specified criteria. These included amongst others: ecological balance in the use of the product; protection of environmental resources and the environment; and the use of the solution with focus on ergonomics, safety and health.
Thermo King engineers developed the CryoTech technology using liquid carbon dioxide (R-744) in an innovative open-loop system that provides transport refrigeration. The recycled R-744 used for cooling is a byproduct of ammonia production, which generates no new greenhouse gas emissions.
The CryoTech units achieve a significant reduction in emissions and improved performance over conventional diesel-powered units. The system offers fast temperature recovery, making it ideal for the distribution market where the cooling unit is often interrupted as drivers deliver goods at multiple locations.
In addition, the CryoTech systems are PIEK-certified and an estimated 90 percent quieter than conventional diesel refrigeration units, so the units can be used for day or night-time distribution in urban areas.
For more information, please contact Heidi McGuire.