Press Release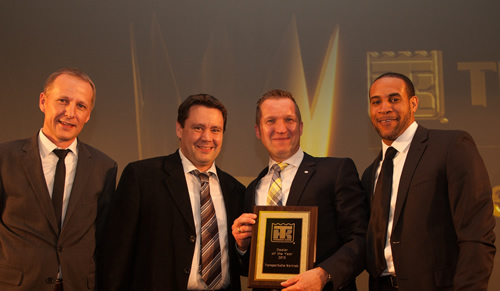 Thermo King Celebrates 2013 Dealership Performance Excellence Awards
26th March 2014
Dealers recognized for delivering outstanding service in 2013
Thermo King, a manufacturer of transport temperature control solutions for a variety of mobile applications and a brand of Ingersoll Rand, honored leading dealerships at its annual dealer conference held in Barcelona, Spain. The company recognized dealers within the Europe, Middle East and Africa region for their 2013 achievements.
The 2013 Dealer Awards were presented to dealers that met the company's requirements for excellence and leadership in all aspects of performance, while providing a superior and consistent customer experience. Other areas of consideration were customer care, educational and training programs for customers, understanding customer needs and providing solutions, marketing and level of Certi-Tech trainings and the service technician certification program.
The prestigious Dealer of the Year 2013 award went to Transport-Kälte-Vertrieb, Germany. The company has been part of the Thermo King family for over four decades and this award recognizes their achievements for being a solutions innovator, meeting customer needs and increasing market share.
Additional 2013 Dealer Award winners include:
Trailer Dealer of the Year: Thermo Systems, Poland
Truck Dealer of the Year: GOGAMITKG FROID SPA, Algeria
Direct Drive Dealer of the Year: Climate Control LLC, Russia
Service Dealer of the Year: Thermo King Norge SA, Norway
HVAC Sales Dealer of the Year: Costa Eugenio Srl, Italy
HVAC Service Dealer of the Year: Grayson, UK
Customer Satisfaction Award: Frigicoll, Spain
For more information, please contact Heidi McGuire.