Press Release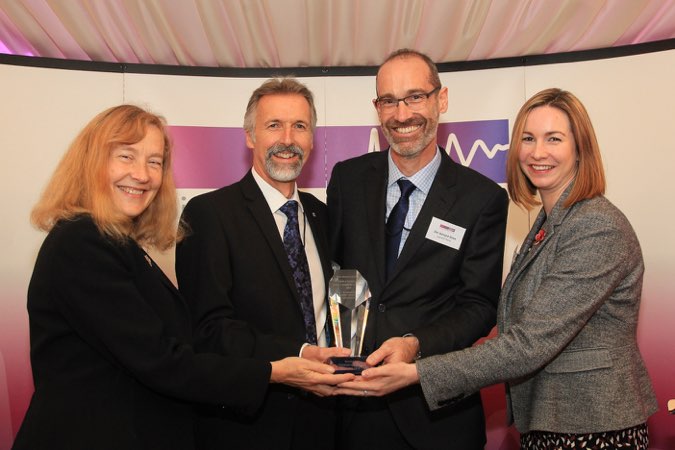 Thermo King and Frigoblock Recognized with the John Connell Quiet Logistics Award by the Noise Abatement Society in the UK
26th October 2018
Brussels, Oct. 26, 2018 – Thermo King and Frigoblock, transport solutions brands of Ingersoll Rand, a world leader in creating comfortable, sustainable and efficient environments have been awarded by the Noise Abatement Society in the United Kingdom with the 2018 John Connell Award in the Quiet Logistics category. This award recognises advances in low-noise technology, equipment and operations to facilitate safe, low-noise and efficient urban distribution services.
The 2018 John Connell Awards Ceremony was held on October 24th at the Palace of Westminster in London, UK honoring local authorities, industry, organisations and individuals for the significant impact they have made to improve the aural environment. Steve Williams, area sales manager at Thermo King and Jon Jerrard-Din joined the other winners on stage to thank for this exceptional recognition.
"We are pleased to be recognized for our efforts to make refrigerated transport more sustainable and quieter," said Williams. "In recent years, we have had an increasing number of requests from customers asking for our help in proposing solutions to address the issue of noise in urban areas. We have worked hard to develop and introduce a number of solutions that today help transport companies address the concerns of the urban communities. These solutions aim at improving the quality of life in the cities with low noise and low emission operations and we will continue to innovate and lead the market in this direction."
"For years we have been working with retail and distribution customers in the UK to address noise and engine emissions concerns during deliveries in urban areas," said Jerrard-Din. "Frigoblock refrigeration units eliminate the need for an auxiliary diesel engine in the refrigeration unit and the associated noise. These units can also be combined with natural gas engine trucks, which gives transport companies one of the cleanest and quietest truck and trailer combinations in the market."
Thermo King and Frigoblock were recognized for their "market first" technologies designed to 'future-proof' transport refrigeration today, by addressing sustainability issues, regulatory requirements and optimizing fleet operations by harnessing the power of electricity, data and clean technology.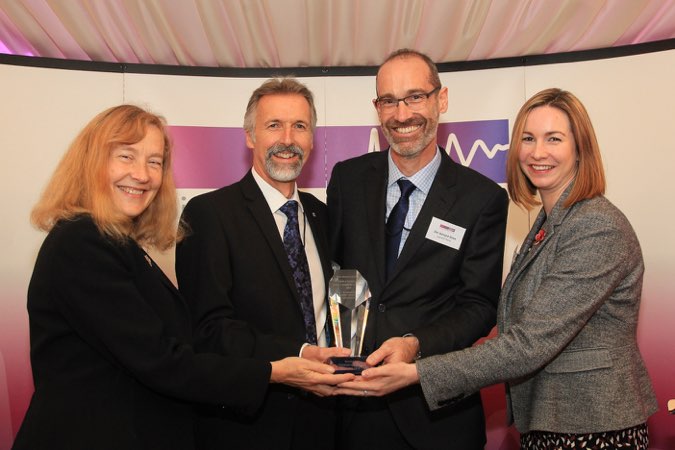 Left to right: Sonia Phippard (DEFRA), Steve Williams (Thermo King), Jon Jerrard-Dinn (Frigoblock), Natalie Chapman (Freight Transport Association).
Photo by Noise Abatement Society.

"Market first" technologies
In an effort to eliminate engine noise from trailer refrigeration units, Thermo King and Frigoblock developed a new hybrid solution. The SLXi Hybrid technology answers demand for solutions that will give transport companies easier access to restricted, low-emission urban areas while lowering their environmental footprint and operating costs in the same time.
SLXi Hybrid units use geofencing feature to transition the unit's operation from diesel engine to electric mode on suitably equipped trucks when they enter pre-defined urban or noise sensitive areas.
Another one of the "market first" technologies recently introduced by Thermo King and Frigoblock that lead with electricity, connectivity and sustainability to revolutionize the way transport companies operate includes the new E-200, full-electric refrigeration unit. The E-200, designed for both electric and engine-powered vans and trucks below 3,5 tons, can provide constant capacity and performance independently of the vehicle's operation.
The E-200 is using components never seen before in the refrigerated transport industry. Chief among these is a new controller that can adapt the capacity based on the actual need, available power and manage different available power sources at the same time.
Thermo King also worked with Northgate, the leading European commercial vehicle rental company to create a zero-emission and low-noise refrigerated van for last mile deliveries and test it in real life operational environment.
The new Thermo King B-100 ECO refrigeration unit, specifically developed to meet the extreme low energy consumption required by small electric vehicles, was fitted on an electric Citroën Berlingo making a zero-emission and fully electric powered refrigeration vehicle, which was then entered into daily service in Spain by Northgate.
The vehicle was tracked during real life, daily operations. The tests conducted in various conditions showed the refrigeration unit's limited, 5-8,5 percent impact on the range of the vehicle within an average delivery day of 8 hours with 32 door openings of 2 minutes each[1]. This proved that the standard 12V auxiliary battery of the electric vehicle is enough to power the B-100 ECO unit and there is no requirement for additional and costly batteries on the electric van.
[1] The impact of the B-Series ECO family on the range of the electric vehicle might change based on the application, the battery of the vehicle, the ambient condition and the usage of the 12V load of the vehicle itself.