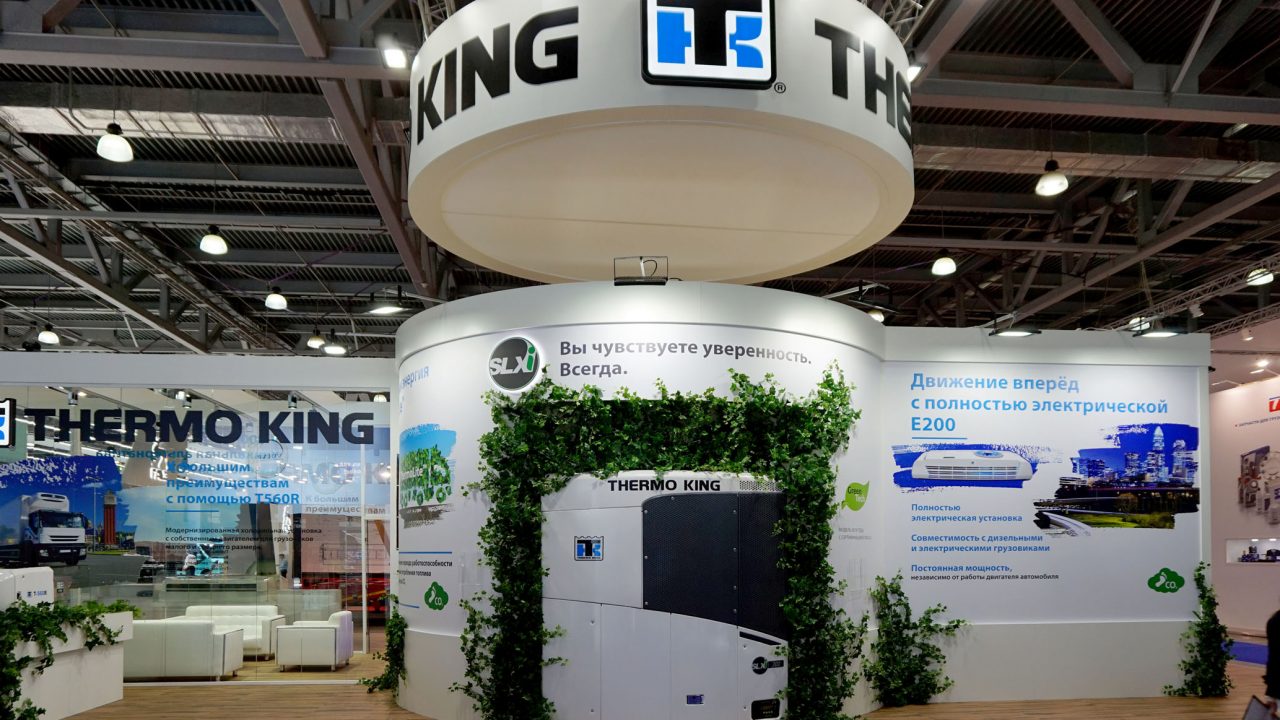 Sustainable, Efficient and Electric Transport Refrigeration from Thermo King on show at COMTRANS in Moscow
3rd September 2019
Thermo King®, a leader in transport temperature control solutions for a variety of mobile applications and a brand of Ingersoll Rand, is at the COMTRANS 2019 show in Moscow, Russia to showcase the latest innovations in transport refrigeration designed for sustainable business operations.
Products presented at the booth 13-200 will show how transport companies can benefit from fuel saving, low-noise, diesel and non-diesel Thermo King refrigeration systems to achieve their operating and sustainability goals.
"This COMTRANS, we will show our latest and proven line-up of solutions that demonstrates our commitment to delivering products, which help our customers operate their businesses sustainably and with increasing efficiency," said Dmirty Nazarov, regional director for Russia and CIS at Thermo King.  "Our portfolio of diesel, hybrid and zero-emission, all-electric solutions can suit all transport applications and allows our customers to provide refrigerated transportation in cities with less emissions and lower noise."
The COMTRANS 2019 highlights from Thermo King will include:
Truck and trailer, diesel-engine refrigerated units portfolio fully compliant with the latest European legislation including Non-Road Mobile Machinery (NRMM) Stage V regulation. All Thermo King truck and trailer refrigeration units feature upgraded, lower-emission GreenTech™ engines and are fully Stage V compliant with no compromise on performance or reliability.
New, intelligent E-200 all-electric units for vans and trucks below 3,5 tonnes with performance independent from the vehicle and plug-and-play installation. New controller allows the refrigeration unit to adapt the capacity based on the actual need and available power. With the unit fitted with the optional TK battery, the controller manages different power sources at the same time, to get hold over capacity during stops for deliveries or breaks.
New self-powered T-560R refrigeration unit that enhances the widest range in the truck refrigeration industry. With added capacity and better pull down it allows customers to do more deliveries with more cargo and more door openings. Compared with the predecessor, the T-560R units come with 20 percent increase in both fresh and frozen capacity and 5 percent reduction in fuel consumption to address the flexibility and sustainability of fleet operations.
Thermo King ThermoLite family of 24W, 40W and 110W solar panels providing a sustainable power management solution, which increases battery life while reducing fuel consumption and emissions.
Connectivity and data driven aftermarket solutions. With connectivity and telematics capabilities built into the units, Thermo King goes beyond providing just a refrigerated unit. Connectivity improves customer uptime, operational efficiency and contribute to pro-active and predictive maintenance strategies.
COMTRANS 2019 Exhibition Details:
Stand Number: 13-200
When:                 September 3 – 7, 2019
Where:                Pavilion 3, Crocus Expo, Moscow, Russia
Website:             www.comtransexpo.ru