Press Release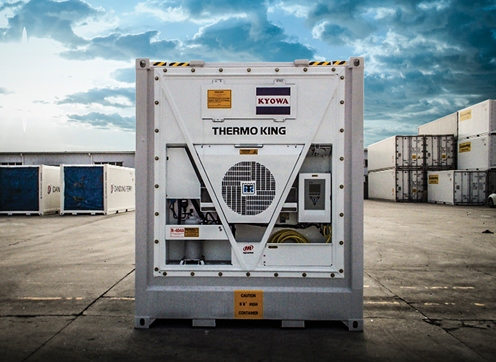 Japan's Kyowa Shipping Expands Fleet with MAGNUM PLUS Reefers
2nd April 2014
Kyowa Shipping, a leading Japanese service provider in ocean transportation, recently expanded its refrigerated fleet with 25 MAGNUM PLUS™ container refrigeration units from Thermo King, a manufacturer of transport temperature control solutions for a variety of mobile applications and a brand of Ingersoll Rand.
Kyowa Shipping chose the Thermo King units primarily for its -40°C freezing capability to support their tuna exports. The multi-purpose reefer can be used for fresh product just as effectively as frozen. The MAGNUM PLUS units offer flexibility that will take the container from route to route, and product to product.
"We were excited to learn about the MAGNUM PLUS deep frozen capabilities, which will provide ideal transport temperatures of tuna, a premier cargo assigned to our South Pacific route," said Kazunari Uede, Kyowa Shipping director. "We are always looking for ways to provide value to our customers, and the MAGNUM PLUS will give them quality product and peace of mind."
In July 2013, Thermo King established a partnership with EF International Ltd. (EFI), a Japanese trader of international sea containers. This partnership was an essential part of providing Kyowa Shipping with the refrigeration units they needed.
"Kyowa Shipping is committed to its customers and global market growth," said Harumi "Harry" Nakao, EFI managing director. "This is why they were attracted to the MAGNUM PLUS for their tuna cargo. They understand that innovation and dependable technology translates to better service and quality product. No other reefer can provide -40°C today."
"The colder the better is true when transporting high-value seafood, such as tuna," said Michel van Roozendaal, vice president and general manager of Global Marine, Rail and EMEA Bus at Thermo King. "Reliable and efficient freezing units are crucial for ensuring product freshness and quality during long-haul sea transportation, thereby guaranteeing cargo value for our customers."
No matter the temperature at which the MAGNUM PLUS is used, Kyowa Shipping will benefit from the lowest energy consumption, the fastest pull-down, the tightest floor spread, and the most advanced controller available on the market today.
For more information, please contact Heidi McGuire.