Press Release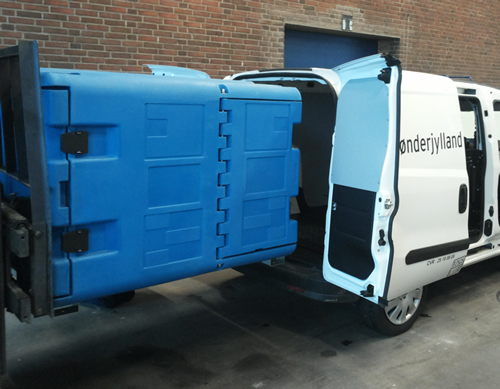 Hospital of Southern Jutland Selects Thermo King ColdCube™ Pharma Containers For Secure Pharmaceutical Transport
28th February 2014
Sygehus Sønderjylland, hospital of Southern Jutland in Denmark, partnered with Thermo King, a manufacturer of transport temperature control solutions for a variety of mobile applications and a brand of Ingersoll Rand, to ensure reliable temperature control for their blood bank transportation vehicles.
Sygehus Sønderjylland required a solution that would help them maintain the quality and integrity of blood bags during their collection and distribution between different hospital buildings and test laboratories in the Southern Jutland region.
Critical for the transportation of this sensitive cargo was the need to maintain a stable and secure temperature range from +20°C to +21°C, regardless of ambient conditions. The hospital required a solution that would perfectly fit their existing fleet and had the flexibility to be easily mounted in other vehicles when needed.
After careful consideration, Sygehus Sønderjylland elected to equip their transportation vehicles with the new ColdCube™ Pharma Containers. This one-piece lightweight container is constructed of pharmaceutical safe material for easy maintenance and offers stable and secure temperature-controlled environments for pharmaceutical transport.
"Maintaining the quality and integrity of medical and biological products during transport is critical for the healthcare industry as well as for public health and patient safety," said Jesper Hedelund, sales at KH OneStop, Thermo King dealer in Denmark. "Based on the needs of the pharmaceutical market and years of application expertise, Thermo King developed a solution providing portable and secure temperature control for transportation of its sensitive materials."
Thermo King offers a range of mobile cooling and heating ColdCube Container solutions for a variety of applications. The containers are molded of one piece for durability and light weight. The ColdCube Pharma Containers were designed specifically for secure transport of biomedical products, like blood bags, blood tubes, vaccines and biological samples in the most demanding environment conditions.
For more information, please contact Heidi McGuire.