Press Release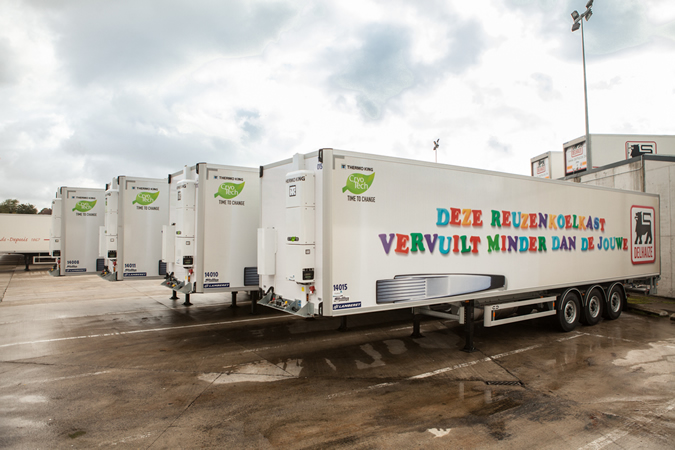 Delhaize Belgium is First to Sustainable Delivery with CryoTech Temperature Controlled Solutions
25th November 2014
Beginning in November, Delhaize Belgium, a leading supermarket operator in Belgium and part of the Delhaize Group, international food retailer, will use environmentally responsible CryoTech solutions from Thermo King. Thermo King is a manufacturer of transport temperature control solutions for a variety of mobile applications and a brand of Ingersoll Rand, in its temperature controlled trailer fleet.
Delhaize has an extensive history of delivering healthy, fresh perishable goods and is a leader in utilizing innovative and sustainable products in their retail operations. During the past several years, Delhaize has applied comprehensive sustainability plans to reduce their footprint.
As part of its sustainability commitment, Delhaize wanted refrigeration technology that would enable them to reduce their carbon footprint during transportation of products from distribution centers to stores and allow for quiet and off-peak hours deliveries. After careful evaluation, leaders at Delhaize teamed up with Gradius, the Belgian dealer of Thermo King, and use CryoTech units in selected refrigeration vehicles.
"Our goal is to make Delhaize and all its activities more sustainable," said Mark Verleye, senior vice president, Purchase and Supply Chain at Delhaize. "This strategy includes reduction of greenhouse gas emissions related to our business by 20 percent by 2020 as compared to 2008.We hope the Thermo King CryoTech technology will accompany us on the road there."
Thermo King CryoTech solutions meet Delhaize's business needs and environmental requirements with PIEK quiet operations without any compromise on performance, no HFC fluorinated refrigerant and no new carbon dioxide emissions during operation. Estimations show that during delivery, the CryoTech-equipped Delhaize trailers only use 25 percent of the total energy and generate 75 percent fewer emissions than an equal-sized domestic refrigerator.
"Thermo King's CryoTech range provides the retail industry with a much-needed refrigeration solution that offers maximum load protection while delivering high efficiency, low environmental impact and reduced noise levels," said Dwight Gibson, vice president at Thermo King in Europe, the Middle East and Africa. "Due to the performance capabilities of CryoTech, Delhaize will reduce food waste and extend the life of their transported goods."
Thermo King CryoTech Technology
Thermo King CryoTech technology uses liquid carbon dioxide (R744) in an innovative open-loop system, delivering superior refrigeration, significant reduction in emissions and improved performance over conventional diesel-powered units.
The recovered R744 used for cooling is obtained as a by-product from industrial processes that would otherwise have been released into the atmosphere. As such, there are no new carbon dioxide emissions during operation of the CryoTech system. Moreover, CryoTech technology allows Delhaize to reduce their transport refrigeration equipment carbon footprint by up to 90 percent compared to conventional refrigeration units.
CryoTech units feature faster temperature recovery compared to conventional diesel driven refrigeration and allow for up to four times faster temperature pull-downs. This is crucial where the cooling unit is often interrupted as drivers deliver goods at multiple locations. With better temperature management less of the transported perishables go to waste.
In addition, the CryoTech units are PIEK certified with noise level below 60dB(A) without compromise on performance. This makes them ideal for day or night distribution in urban areas. Trucks that deliver at off-peak hours spend less time in traffic resulting in time and money savings, lower fuel use and fewer emissions.
The scope of the project includes installation of Thermo King CT15 units on 10 normal trailers with a length of 13.6 meters and on five city trailers with 10.5 meters length. The fleet is expected to start delivering goods in Belgium in November.