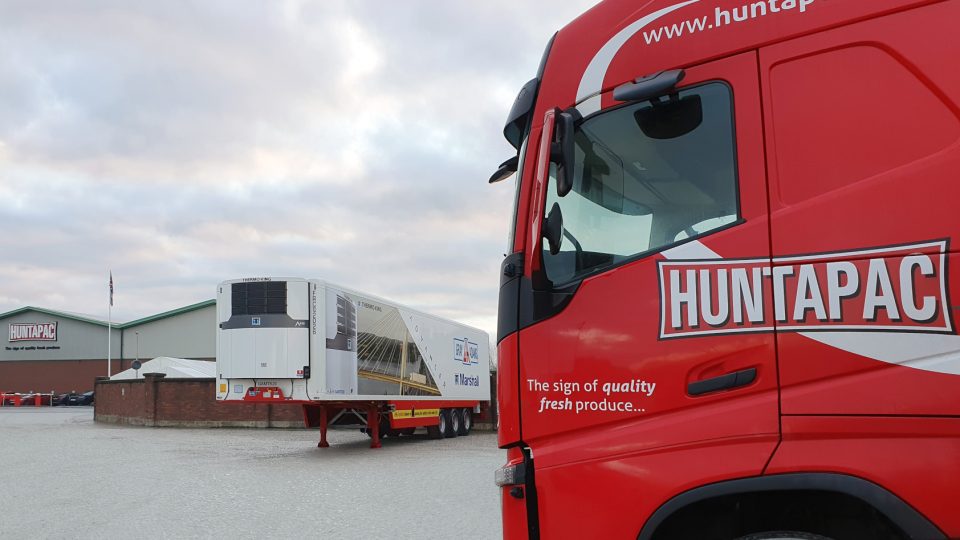 48% Fuel Saving Drives Huntapac's Switch to Thermo King's Advancer
1st September 2021
Huntapac, UK's fresh produce supplier expanded its fleet with five new trailers with fuel efficient Advancer A-400 units from Thermo King.
Improved efficiencies, increased sustainability and proven fuel economy are the key drivers behind Huntapac Produce Ltd taking five new trailers fitted with Advancer A-400 refrigeration systems from Thermo King®, a leader in transport temperature control solutions and a brand of Trane Technologies.
Huntapac, a UK based specialist in growing, packing and distributing a variety of root vegetables, brassicas and salads, decided to increase their trailer fleet to cope with the additional customer volumes. The decision to bet on single temperature Advancer refrigerated trailers was made after testing one of the demonstration trailers made available to them by Marshall Fleet Solutions, one of Thermo King's official UK dealers. The comparison with other similar fleet trailers running alternative refrigeration systems on the same routes, showed the Thermo King Advancer returned 48% fuel savings.
"Across the whole spectrum of our tractor unit and trailer fleet, we are looking to increase the overall fleet fuel efficiency going forward, specifically to offset the continually rising costs of fuel," said Joanne Cleece, head of transport at Huntapac Produce Ltd. "We were keen to try the Advancer system as soon as it was launched to see whether Thermo King's Advancer fuel cost claims were justified. We received full and accurate detailed performance data during the trial period, and identified significant fuel, environmental and operational cost savings."
"Within the trial period, based on our running profile of 1500 hours per annum, the fuel savings were exceptional, in comparison to our existing reefer trailers fitted with the equivalent incumbent systems," said Cleece. "In addition, the Advancer performance stats also indicated a substantial environmental benefit with significant savings in CO2 output per unit. Instantly we realised that Advancer was going to be a game changer, not just for our future refrigerated trailer fleet, but for the industry in general."
The new trailers are now based at the company's production facility and were supplied on a contract hire deal through TIP Trailer Services, with Thermo King dealer Marshall Fleet Solutions handling the Advancer refrigeration system service and maintenance support during the trailer's working life.
"For many years now our trailer fleet has been wholly based on non-Thermo King systems. This recent switch over to Thermo King Advancer systems is a big change for the company however it has been based on strict operational performance out on the road. The Advancer demonstration trailer was put straight into our fleet literally as soon as it arrived and was working during our busiest trading time, running full loads of carrots and other root vegetables, and with no special preferential treatment. The results spoke for themselves," said Joanne Cleece.
"Cost of fuel impacts on every operator and it's one of the most challenging elements of running a transport fleet. We designed Advancer to address this and redefine the fuel efficiency of trailer refrigeration," said David O'Gorman, regional sales director at Thermo King. "Advancers offer our customers an unmatched electrical and fuel efficiency and up to 40% quicker pull down than the market average. We're pleased to see that Huntapac is experiencing and benefiting from these results in their daily operations."
Thermo King Advancer A-Series units include unique features that comprehensively address a wide range of operational and financial challenges, including:
Up to 40% quicker pull down and up to 30% better fuel-efficiency than the market average
Fully variable airflow that can be regulated for each journey and cargo, and is independent from unit engine speed
Unrivalled electrical and fuel efficiency contributing to lower CO2 footprint and engines with 50 percent less emissions than the maximum allowed by latest NRMM Stage V emission standards
Electronic engine speed control on the A-400 and A-500 units, which makes them the first units on the market to give complete transparency of fuel levels and fuel consumption. The fuel consumption data will be recorded, displayed, and made available remotely via telematics
Lower maintenance costs and enhanced serviceability compared to the predecessor, thanks to sensors offering more insight into the engine, fuel, battery and the performance of other key components
Fleet intelligence as standard, with Advancer being the first-ever unit to offer 2 years of full telematics connectivity in the purchase price.
For more information on Thermo King Advancer, please visit tkadvancer.com or contact your local dealer.