Press Release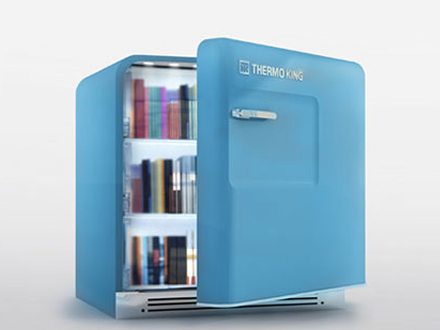 Thermo King Unveils the Latest Technology and Sustainable Advancements in Transport Refrigeration at IAA Commercial Vehicle Show 2014
24th September 2014
Innovative Thermo King refrigeration solutions improve quality of life around the world by helping customers reliably deliver life's essentials
Thermo King, a manufacturer of transport temperature control solutions for a variety of mobile applications and a brand of Ingersoll Rand, is marking new milestones and launching breakthrough solutions at the IAA Commercial Vehicle Show on 25 September – 02 October in Hanover, Germany. Thermo King will introduce solutions that address emerging market trends, pending legislation and the company's commitment to energy efficiency and sustainability.
"For more than 75 years, Thermo King has pioneered the advancement of transport temperature control technology to deliver goods and transport people reliably, efficiently and sustainably," said Dwight Gibson, vice president, Thermo King Europe, Middle East and Africa. "Together with our strong dealer network we are unveiling at IAA new customer and market-driven solutions and a product portfolio designed for cost effectiveness, optimal energy efficiency, performance, and compliance with the most stringent local standards and regulations."
Reducing the Global Warming Potential (GWP) of transport refrigeration without compromising safety, capacity or efficiency
At the show, Thermo King is announcing its commitment to helping customers reduce their greenhouse gas footprints. Thermo King has made considerable investments in truck and trailer refrigeration products that are reliable and energy and operationally efficient and that use refrigerant with lower GWP.
These product alternatives will be available next year in Europe, the Middle East and Africa and in the United States once the Environmental Protection Agency (EPA) approves this next generation refrigerant. The alternative refrigerant, R-452A, has about half the GWP and does not compromise the safety, capacity or efficiency of the solution.
Thermo King is offering customers a choice of how and when to make an early transition to lower GWP refrigerants (that are safe and more climate-friendly) with increasing product performance. This refrigerant transition will eliminate approximately 1.6 million metric tons of CO2 in the US by 2020, which is equivalent to the energy used by nearly 150,000 homes over one year or to the installation of more than 400 wind turbines.
Thermo King looks forward to being a strong partner in making the cold food chain and pharmaceutical distribution more sustainable.
Other Thermo King solutions in the showcase include:
PharmaSolutions
PharmaSolutions, a unique platform dedicated to the needs of pharmaceutical manufacturers, distributors and logistics providers, ensures the efficacy of pharmaceutical products in transport with a stable and secure temperature-controlled environment.
With the integration of telematics offering end-to-end visibility of refrigerated fleets and a broad spectrum of services spanning certification and qualification of transport refrigeration equipment to distribution process verification, PharmaSolutions not only improves the efficiency of the pharmaceutical distribution network, but also addresses the needs and expectations of the pharmaceutical industry.
CryoTech Range
The CryoTech systems provide fleet managers with a much-needed refrigeration solution that offers maximum load protection and customer peace of mind while delivering high efficiency, precise temperature control and telematics integration capabilities together with low environmental impact and reduced noise levels.
Delivering superior refrigeration, Thermo King CryoTech technology uses recovered and commercially available liquid carbon dioxide (R-744) in an indirect open-cycle system, generating no new greenhouse gas emissions.
SLXe™ Whisper Pro
Thermo King SLXe™ Whisper Pro single- and multi-temperature units offer distribution companies reduced sound levels with no compromise on performance, complying with the most stringent and recent PIEK requirements. The SLXe Spectrum Whisper Pro is the only PIEK-certified, multi-temperature monobloc trailer refrigeration unit currently available on the market.
The PIEK-certified low-noise and multi-temperature capabilities offer transport companies full flexibility in transportation and the ability to operate outside peak traffic hours. This not only enhances the time and cost effectiveness of each delivery, but increases the fuel efficiency and sustainability of the delivery operations.
As part of the SLXe range, the Whisper Pro unit benefits from the same strengths, including ease of service, commonality of components, high resale value and the expert 24/7 support of the Thermo King Dealer network.
Professor Kool
Thermo King Professor Kool is a standalone, interactive and multilingual training module providing educational tools that help users gain a better understanding of the fundamentals of refrigeration. The toolbox provides expert knowledge on how to operate refrigeration units while identifying operational best practices on loading and unloading, fuel consumption and other key focal points of refrigerated transport. The featured solutions can be easily implemented to help customers improve their operations and the way they use their refrigeration units.
Mobile Apps
New and updated smartphone applications from Thermo King have been designed to support the growing number of customers seeking instant information on their mobile devices, such as smartphones or tablets.
These free applications enable time-pressed customers to obtain data quickly and conveniently to identify solutions that lower fuel costs, increase energy and operational efficiency and meet their specific industry and transport needs.
Download the applications today:
TK SmartSaver
TK Match
TK SLXe
ColdCube™
ColdCube™ Pharma Containers, a one-piece lightweight container is constructed of pharmaceutical- safe material for easy maintenance and offers stable and secure temperature-controlled environments for pharmaceutical transport. This solution was designed specifically for secure transport of biomedical products, such as blood bags, blood tubes, vaccines and biological samples in the most demanding environmental conditions.
Available in different sizes, ColdCube containers from Thermo King provide powerful mobile cooling and freezing solutions that can be easily moved between different field applications. These lightweight, durable, flexible solutions can be loaded relatively quickly into a standard van or truck and powered by the vehicle battery, or once unloaded, the containers can be plugged into a standard wall outlet for continuous cooling.
Athenia E-Series
The Athenia E-Series air-conditioning modules are specifically designed for hybrid and electric buses to align with the latest sustainability trends and comply with regulatory directives.
The Athenia E modules are one-piece rooftop units that are fully hermetic and electric-driven. The modules offer high airflow and better circulation inside the bus for increased comfort. The design is relatively shorter compared to other rooftop heating, ventilating and air conditioning (HVAC) modules, which allows additional space on the roof of the bus for electric drive components.
The Athenia E modules increase sustainability because they are equipped with micro channel condensers that allow for lower refrigerant charge and minimize the risk of leakage. Equipped with a horizontal scroll compressor, the unit creates fewer vibrations and runs in a variable speed mode, adjusting the airflow to the actual needs. This technology contributes to increased efficiency and lower life cycle costs.
AdvanTech Options
Thermo King AdvanTech Options are the latest HVAC technologies dedicated for buses and are designed to reduce the total cost of ownership by limiting downtime, reducing fuel consumption and allowing control over the balance of comfort and operational costs.
The AdvanTech Fresh Air Control
The AdvanTech Clean Air Filter
AdvanTech GPS Control System
Learn More at IAA 2014
Thermo King will be present at the IAA 2014 Show in Hanover, Germany. Join leaders on Wednesday, September 24, at 15.30 #B15 in Hall 27 for a press conference on this topic followed by a social event. Thermo King leaders are available for interviews upon request and by appointment.